I've been seeing the infomercials for Beachbody's Insanity Workouts with Shaun T for probably a year or two now and they have always looked pretty interesting. Over the past few months, I really cut back on my workouts because I felt like I needed a break and I've been busy with work/school so naturally I've become pretty out of shape.  Seeing that it is winter break for me right now and I don't have access to my usual gym, I decided to switch it up a bit and begin working out exclusively in my house.  While the original Insanity workout caught my attention, the more I researched about the programs the stronger the Insanity Asylum DVD's started to pull me in. I was particularly drawn to the fact that Asylum is designed like an athletics training program rather than simply weight loss or aesthetics.  Judging by the first workout, this should definitely help me get ripped but also provide functional increases in my strength and speed. Now that I've taken the plunge and purchased Insanity Asylum, I wanted to review my experiences with this 30 day program while weighing the pros and cons throughout.
Let me start the Day 1 review by giving a little bit of background about Asylum, what comes with the program, and all of these other odds and ends. First of all, when it comes down to deciding between Insanity vs Insanity Asylum, I think it would be best for most people to err on the side of caution and to select a program based on your individual fitness level. Asylum is not for those who are seriously overweight or have not been on a regular exercise program. In fact, Asylum is tailored for those who have already 'graduated' from the original Insanity. Now, let me state that I have not done the original Insanity program and while I am 'out of shape' in my personal context of the word, I have been an avid follower of exercise regiments for years now. I know my limits and how to listen to my body when I need a break but because I also wanted a challenge, I chose to purchase Asylum and push myself through.
From what I have gathered about the other Beachbody products, for some people who don't exercise very much it might be best to start out with a program like P90X and then advance to the Insanity programs. Also, the original Insanity seems to be a very heavy cardio program with lots of jumping and other high impact movements, so those with bad knees might not want to get involved with what Insanity offers. The athletic aspect of Asylum is what broke the debate between Insanity vs Asylum for me, especially the fact that Asylum incorporated much more strength and resistance training when compared with the cardio of Insanity. Also, I loved the fact that it is a 30 day program that coincides almost perfectly with this next month of a somewhat less hectic life which means I can focus lots of attention on workouts and recovery.
What gear does Insanity Asylum come with?
The answer to that question depends on which version that you purchase. I bought the basic version which I paid about $104 for. While the price isn't exactly cheap, it does breakdown to roughly $3 per day for the first run through of the program. However, when compared to the price of a gym membership plus gas and travel time to said gym and the fact that you can do Asylum to your heart's content, I'd say it more than pays for itself. Anyways, the basic version that I purchased comes with all six DVD's (Athletic Performance Assessment, Speed & Agility, Vertical Plyo/Relief, Strength/Strength with Bands, Game Day/Overtime, and Back to Core), a nutrition plan, workout calendars, training guide, an agility ladder, and a speed rope.
The Deluxe version includes everything the basic Asylum comes with plus a chin up bar and strength bands. It costs just above $200 as of writing. However, I have a chin up bar that I bought for about $20 and am using dumbbells in lieu of strength bands because that is my personal preference. If you decide not to purchase the deluxe version keep in mind that you will need to get your own bands or dumbbells and a pull up bar (although I have read that Shaun T provides alternate movements if you don't have the pull up bar).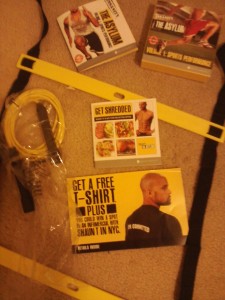 Insanity Asylum Meal Plan
I've only skimmed the "Get Shredded" 14-Day plan by Shaun T but from what I can tell it provides a very good diet to follow during Asylum. The booklet itself breaks down caloric needs, how and when each meal should be planned and portioned, gives lots of healthy recipes, and offers alternative foods to help to keep you on track without having to limit what you eat completely. I'm not planning on following this portion of the program but will probably eat along similar guidelines.
Day 1 Experience with Insanity Asylum
Let's start out with my stats on this first day then get into the workout:
Height: 6'2"
Weight: 192 lbs.
How I've already managed to mess up on Day 1:
I didn't do the initial fitness test. You are supposed to track your progress by doing a fitness test one the first day and on the thirtieth day. Oops. I mean it's cool to see progress in how many reps I can do of the exercises but I'm more excited to see measurable results for myself in my athletic ability such as 50 yd. freestyle time in swimming and my vertical jump (here's hoping I can get closer to dunking).
The first workout that you perform after the Athletic Performance Assessment is the Speed & Agility DVD. This workout is 45 minutes long and is pretty exhausting. The agility ladder is used throughout this workout and Shaun T loves to throw plenty of mountain climbers and bear crawls into this one to hit your core muscles.  If you've ever seen football players using agility ladders then you'll recognize some of the drills in here.
Let me state that you will need plenty of space to perform the workouts in Asylum. I've rearranged my room to give me more space to operate but it is still not enough to perform some exercises. I have a space of 10'x 5' to work with and I really wish I had more room. I would say 10×10 would be excellent or at least enough to do the pushup drills up and down the agility ladder. Also, my ceilings are low so the speed rope is a no go, instead I simply simulate jumping with a rope (yes, I look stupid). To compensate for this lack of space I made up some exercise combinations on the fly using either push ups or dumbbells combined with some sort of core exercise or agility drill.
Degree of Difficulty of the Speed & Agility Workout
Even with my inability to do all of the exercises and having to substitute this was still a really tough workout. I had to pause the video a few times while trying to keep up and was absolutely dripping with sweat. I think that even had I been in shape to start with, it would have still be exhausting, but hey that's what it's designed to do and even the fitness models on the DVD were taking breaks so I didn't feel bad about my own performance. It's perfectly OK not to be able to keep up, this is something you have to work for and improve upon by going at your own pace and progressing. I don't have a heart rate monitor but my chest was definitely thumping the entire 45 minute workout. I also noticed that when my legs began to fatigue I really had to focus myself to be able to do the agility drills properly; I looked clumsy at times but got through it. There is some light stretching in the beginning of the DVD and at the end but it be a good idea to warm up a bit on your own before each Asylum workout.
Asylum also comes with a 15 minute bonus DVD called Overtime which you can supplement regularly scheduled workouts with. Since I didn't do the fitness assessment I felt like I had to do Overtime. It was rough. My muscles were quite shaky after Speed & Agility so I simply tried to hang in each exercise for as long as possible. Overtime also makes use of the pull up bar at the end of it so that's something to have handy when performing this routine.
Motivation of Shaun T
Shaun T is a beast physically. He doesn't hold back on you during Asylum but his words of encouragement and telling you to push harder definitely helped me to do a few extra reps when I felt completely spent. The DVD's allow you to turn the background music off which I did and listened to my own workout mix but I kept the volume on my TV loud enough to hear Shaun T's instructions and encouragement.
Aftereffects of Speed & Agility
I'm sore and fatigued. My calf muscles took the brunt of the abuse and I expect them to be howling worse than they already are when I wake up tomorrow. Immediately after the workout I wanted massive amounts of water and just to sit still for a while (standing up in the shower wasn't fun). Eating a meal afterwards really helped with the fatigue, though it took longer to eat because I didn't really feel like moving all that much (as if fork to mouth is too much to ask). However, I will say that even though I am physically tired my mood and mental energy level shot up after I was done. I'm actually psyched about tomorrow's workout even if it'll be harder to move. This is really a nice change of pace, as I was getting bored on occasion with my usual lifting and cardio schedule at the gym.
Day Two is the Strength DVD and I haven't previewed it yet but it seems like I'll be incorporating the dumbbells a lot tomorrow so I'll need my rest. I haven't decided on doing a morning workout or simply waiting until the evening when I get off from work. Maybe more rest time is a good idea.
Final Thoughts on Day One and the First Review of Asylum
I'm really excited about pushing myself through Insanity Asylum and getting myself back into shape. I'll be happy if I can drop 5-10 pounds in the next 30 days and show some big improvements in my athleticism. I've been dying to get back to playing more sports again, as it seems that I've had less and less time as an adult to pursue competitive athletics but I really do miss it. I have full faith that this program will deliver after experiencing such a demanding first day and should be a great kick in the butt to get me back to where I need to be physically. That calendar on the wall is serving as a constant reminder that I need to complete each workout and cross it off my list but I can't wait to accomplish it.